Nature Connections Festival 2016
On the 9-10th September 2016, (Nature Connections Festival) A Derbyshire festival will be celebrating the natural world by encompassing 'art, history, health & wellbeing and science.' On Friday 9th Schools & Colleges attend and on the 10th it's open to all.
The event organisers want you to have a great day with nature and really want you to share your passion by entering a photo competition. As long as you're above the age of seven you can take part in the fun and you could even win a prize. The age categories are 7-11 years, 12-15 years and adults 16+.
For your photo the guidelines suggest, 'It could be walking along a beach, finding an acorn, spying a rare bird or butterfly, or simply enjoying relaxing in your garden'. It's really easy. Prizes are given 'based on the quality, (of) your chosen subject and the relevance to the #natureconnections theme.'
There's more! Famed naturalist and photographer Chris Packham will present the prizes on the 9th from 7-9pm. What are the prizes you ask? For each category the first prize is a signed copy of one of Chris Packham's books on nature and the runners up receive a signed copy of Jini Reddy's book: 'Wild Times: Extraordinary Experiences Connecting with Nature in Britain.' If you're unsure of what you need to do just take a look at my photos and the journey I took in taking them.
This is my nature scene and as you can see it is set in the idyllic green wonderland of Victoria Park. This place is really picturesque and I think when people live in the city they forget about the wonderful nature around them. I love this park because I walk through it every morning and evening on my way to and from work. I really appreciate its freshness and tranquillity in a busy city and it distracts me from life's craziness because it makes me feel calm. It's also beautiful to look at.
Here's my picture for the competition: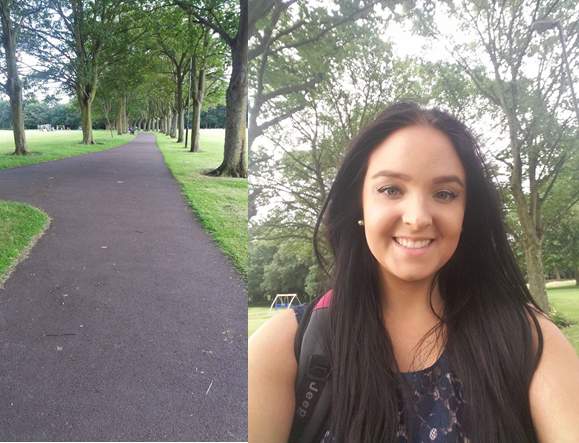 I couldn't miss out on a selfie opportunity though!
So here's what you need to remember; if you're under sixteen then email your picture to B.Reardon@derby.ac.uk, and if you're 16+ plus then you can either send your picture by e-mail or share on Instagram by following 'natureconnectionsfestival' and hashtag #natureconnections.
So what are you waiting for, get sending in those photos!